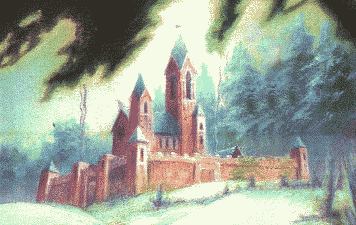 History
Redwall Abbey was built following the destruction and flooding of Kotir, an ancient castle in Mossflower Woods ruled by Tsarmina Greeneyes.
The survivors of the Loamhedge Abbey plague came to Mossflower country, led by Abbess Germaine to start anew. She designed the blueprints.
Along with the woodlanders of Mossflower and other Loamhedge survivors, the Abbey was built out of red sandstone from a neighboring quarry, with the intentions for the building to be a place of peace for all.
A tapestry was woven in the Great Hall dedicated to Martin the Warrior. After his death, he was entombed beneath the Abbey.
While it is ordained to be a peaceful location, many times a warrior is called upon from the residents to combat a threat against this peace.
The residents of Redwall name the Seasons every year after some large occurrence. Young citizens of the Abbey are called Dibbuns.
Positions
A leader of Redwall Abbey is known as an Abbot (Male) or Abbess (Female). There are many positions in Redwall Abbey, like Skipper and Foremole. Badger Mothers also appear in Redwall, one of them being Bella of Brockhall.
Regions of the Abbey
The Apiary
The Attic
The Bell Tower
Cavern Hole
The Cellar
The Dormitories
The Gatehouse
Great Hall
The Infirmary
The Kitchen
The Lawns
The Library
The Orchard
The Pond
The Roof
Warbeak Loft
Books
Redwall Abbey appears in every book except Lord Brocktree
Ad blocker interference detected!
Wikia is a free-to-use site that makes money from advertising. We have a modified experience for viewers using ad blockers

Wikia is not accessible if you've made further modifications. Remove the custom ad blocker rule(s) and the page will load as expected.