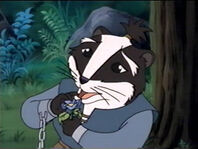 Auma was a female badger, daughter of Orlando the Axe and his Wife, Brockrose, and Badger Mother of Redwall during the time of Abbot Durral.
In Mattimeo, Auma was kidnapped by Slagar the Cruel, along with other young ones including Jubilation, Sam Squirrel, Cynthia, and Mattimeo. They where led to the underground Kingdom which was ruled by the Polecat, Malkariss. Once defeated, Auma reunited with her Father, and settled at Redwall Abbey.
Ad blocker interference detected!
Wikia is a free-to-use site that makes money from advertising. We have a modified experience for viewers using ad blockers

Wikia is not accessible if you've made further modifications. Remove the custom ad blocker rule(s) and the page will load as expected.